DISCOGRAPHY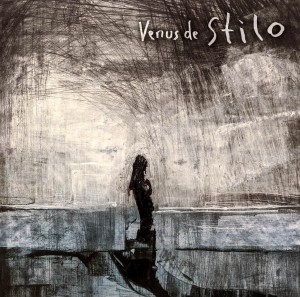 VENUS DE STILO
Musicians: Zuza Kuczbajska (viol), Sylwia Świątkowska (viol, plock fidel), Wojtek Stasiak (g), Tomasz Żur (b), Adam Rozenman (perc), Janusz Kossakowski (dr);
• guests: Karolina Cicha (voc), Janusz Żukowski (cl)
Label: Havry Records
Released: 19.04.2013
.
.
.
Recorded: September 2012-March 2013; ADAM Recording Studio, Chotomów near Warsaw/home studios of Karolina Cicha & Adam Rozenman
Engineers: Iwona & Janusz Greese Łyko/ADAM Recording Studio
Mix and mastering: Dariusz Jakubiec/ADAM Recording Studio
Production: STILO & ADAM Recording Studio
Cover: Anna Szmajda
Art project: Robert Wierzbicki & STILO
Listen to the album:
Venus de Stilo – album mix (8'39)
1. Osiołek   (Little Donkey) 8'16
2. Ptaszek  (Little Bird) 4'25
3. Azoia 4'59
4. Atan 9'43
5. Ayecha 4'07
6. Cafe TuReq 6'39
7. Stilo-skoczek (Stilo' Jumper) 3'07
8. Deszcz (The Rain) 3'56
9. Venus de Stilo 6'42
————————————————
TT    52'01
REVIEWS:
♦ Adam Ciesielski (weekly 'Sieci', 26/2013, 1.07.2013; www.wsieci.pl)
I still hope that big career is ahead of Stilo. (…) The new record is acoustic journey to the land of concentration and dream – with trance violins duo Zuza Kuczbajska-Sylwia Świątkowska and Karolina Cicha' vocals, all raised by colourful guitar solos, bass pulse and drums. The rhythm shaman is Adam Rozenman here – not so long ago well known Polish cameraman and director of unusal documentary "The Griot' Story". Now fantastic percussionist, conjuring from his instruments astonishing variety of sounds but being able to operate with the silence too. Stilo still plays and shines with magnetic light.
¨¨¨¨¨¨¨¨¨¨¨¨¨¨¨¨¨¨¨¨¨¨¨¨¨¨¨¨¨¨¨¨¨¨¨¨¨¨¨¨¨¨¨¨¨¨¨¨¨¨¨¨¨¨¨¨¨¨¨¨¨¨¨¨¨¨¨¨¨¨¨
¨¨¨¨¨¨¨¨¨¨¨¨¨¨¨¨¨¨¨¨¨¨¨¨¨¨¨¨¨¨¨¨¨¨¨¨¨¨¨¨¨¨¨¨¨¨¨¨¨¨¨¨¨¨¨¨¨¨¨¨¨¨¨¨¨¨¨¨¨¨¨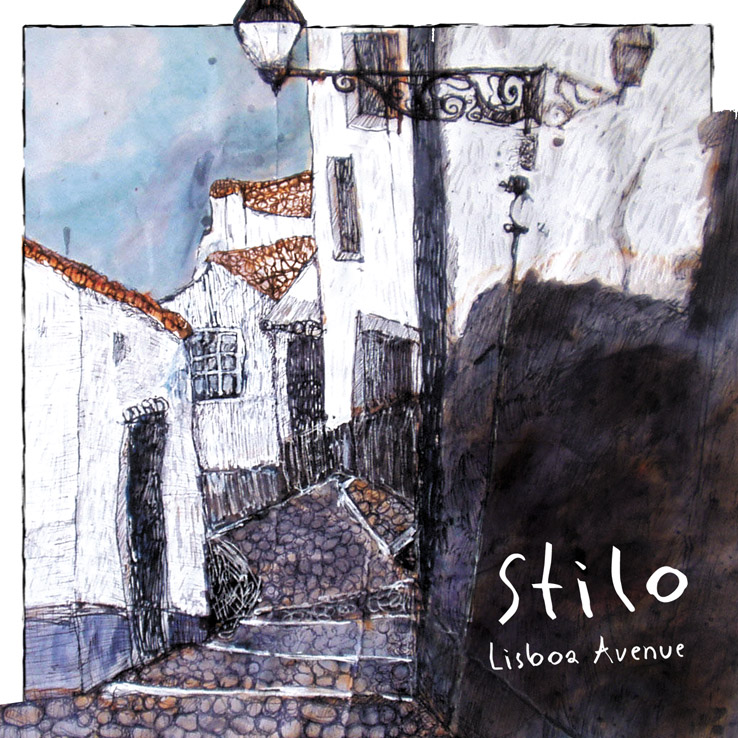 LISBOA AVENUE
Prizes: nomination in American internet poll 2009 Just Plain Folks Music Awards, in category "European Album" (June 2009)
Musicians: Zuza Kuczbajska (viol), Janusz Żukowski (sax, cl), Wojtek Stasiak (g), Tomasz Żur (b, g), Jarek Cieślak (dr, perc);
• guests: Genoveva Faísca (voc), João Bengala (guitarra portuguesa), Mohammad Rasooli (ney), Marek Górka (voc), Marek Dutka (keyb), Sylwia Świątkowska (viol), Paweł Sapija (g)
Label: Konador
Released: 27.10.2007
Recorded: 1-22.06.2007; New Project Studio, Wołomin/João Bengala' studio, Lisbon
Engineers: Paweł Sapija/João Bengala
Mix: Krzysztof Maszota, Paweł Sapija; New Project Studio, Wołomin
Mastering: Krzysztof Maszota; New Project Studio, Wołomin
Production: STILO & Krzysztof Maszota
Cover: Joanna Łątka
Art project: Grzegorz Madejak, Marcin Gromek (Batorski Poligrafia), Wojtek Stasiak
Fot.: Robert Górka, Wojtek Stasiak, Armanda Claro, archives of Genoveva Faísca, Ewa Hawryluk-Stasiak
Translating assistance: Anita Marzec
Listen to the album:
Lisboa Avenue – album mix (6'51)
1. Mazura Boomerang   3'33
2. Oxalis   5'28
3. Światła Dunaju (Danube' Lights)   4'47
4. Latimeria    3'44
5. Kwak Song   1'15
6. Most Karola (Charles Bridge)     7'36
7. 52         7'45
8. Lisboa Avenue     5'10
9. Azoia      7'20
———————
TT             47'06

REVIEWS:
♦ Mark S. Tucker ('Folk&Acoustic Music Exchange', December 2008; www.acousticmusic.com)
A friend recently got ahold of the mindblowing "Mahavishnu Live at Montreux" DVD set and passed it over to me after scraping his cerebellum back off the wall. As things turned out, that release made for a great comparative as I received this group's CD, because there's present in both a depth of composition and nuance difficult to find even in these days of excellent fusion and jazzrock. Stilo appears to be a band in flux, thus its roster and size become a tad difficult to determine. From the evidence of the capacious liner, it could be anywhere between five and nine, with two ex-members also credited. The flip side of the jewel case shows five. Regardless, "Lisboa Avenue" is a disc of deeply gratifying true fusion.

Hailing from Poland, the band covers ground in jazz, gypsy, rock, fusion, and folk styles (the lattermost being the kind Bartok loved), colliding all together for a synthesis preserving everything of import, wasting nothing, and advancing the hybrid into the upper tiers of sophistication exhibited by groups like Magma, Maneige, 5UUs, Zao, Univers Zero, even distant tangs of Art Zoyd and some of the more radical ensembles. I mentioned the Mahavishnu Orchestra, and the relation is not inapt. On the Montreux DVD, McLaughlin's bands (taken from 1974 & 1984) had tons of room to open up and expand, taking not only the expected spectacular solos but also a great number of compositional advantages to build and develop themes, structures, and elongated passages and movements. The effect is stunning when one takes the time to truly follow what's being done. Stilo's doing the same thing in a shorter frame (Mahavishnu took as much as 20 minutes per jam) to an identical end but without relying on non-stop ultra-chops. There's no rush to get to pyrotechnics; instead, expression and subtlety are everything. In fact, their virtuosity is not the point at all but rather the brilliance of the songs themselves as whole expositions.

The cuts are very much collaboratives—save for "Latimeria", a percussion solo, and "Kwak Song" a guitar 'n effects duet—and range from the balladic to searingly affective complexities not dependent upon volume or speedster dynamics for their effect but instead elegance and perspicacity. A beautiful melancholy invades almost every track but that emotion is of a pastoral set of remembrances, not the heartache normally associated with the well-known mood. The tango'ed title cut is perky and rustic but with the quiet exuberance of an old photograph from a family clan get-together in the back country, a sigh of desire for the old days escaping the lungs. Layers of flowing lines tumble over and across one another like a broad river reflecting endless glints of light interspersed with luminantly dark borders.

A few years back, ECM Records asked me to interview Tomasz Stanko and critique a concert he gave in SoCal (in which the incredible Marcin Wasilewski produced some of the most stunning piano solos I've ever heard), and he related to me not only his apprenticeship under Krystof Penderecki and Andres Komeda, but also the fact that there was a great deal of music in Poland going unheard in much of the rest of the world. Think about that: Stanko, Penderecki, Komeda, and then figures like Zbigniew Seifert, Czeslaw Niemen, and a host of others. Now comes Stilo, every inch as impressive and undoubtedly having a hellish time braking out of borders. Poland has a trait for intelligence in the sonic arts that must be reckoned with, brought to greater lights, not left to languish. Like the Nordic lands ECM so masterfully presents, there are entire regions in Europe beyond the rightly lauded England, France, and Italy. To scamp the rest of such a complex continent is to do the entirety a great injustice, inflicting deprivation to the rest of the world. That's a form of masochism and shouldn't be an ingredient in any intelligent global culture. Here's a way to cure it.
♦ Tim Clark ('Luna Kafe',21.03.2008, www.lunakafe.com)
If there's one thing that's changed in the 18 months I've been listening to Frank Zappa, it's my attitude towards melody. I used to be a bit suspicious of anything with a strong melody, especially major-key melodies played on instruments like saxophones, but I'm now a sucker for anything that's melodically interesting. And this release by Polish jazz-rock band Stilo is nothing but melodically interesting.

Opener "Mazura Boomerang" springs to life with all the elements that make this music so appealing: crisp, propulsive drumming; lithe, sinuous bass; clean, funky guitar; and joyous melodies played by saxophone and violin. The song weaves and builds, gets seriously gorgeous with a phased violin in the breakdown, adds a sax solo, returns to the main theme, and then ends. Fantastic stuff.

Aside from the interesting percussion piece "Latimeria" and the bizarre guitar and percussion miniature "Kwak Song", which is introduced by the squeal of a pig (!), most of the songs on this album are variations on the basic blueprint established so strikingly on "Mazura". "Most Karola (Charles Bridge)" also features a lovely synth intro, but is let down by a rather lacklustre vocal performance, which leaves me wishing that the album was entirely instrumental, since the voices of each instrument are so strong and engaging.

Later in the album, acoustic guitar is introduced, providing the brittle structure around which other instruments solo in "52″, and then as the backdrop for the rather predictable Eastern European theme of the title track. "Azoia" ends the album on a high note with more acoustic guitar partnered with sighing violin, and then a darker passage led by sax and fuzz guitar, before breaking down again at the end, accompanied by a recording of Lisbon metro.

Aside from the less inspiring passages featuring more predictable melodic themes, this is a thoroughly enjoyable release from a talented band. Recommended for anyone who enjoys the more buoyant end of jazz fusion.
♦ Mite Mutant ('The ChickenFish Speaks', 2008; www.thechickenfishspeaks.com)
This is a mostly instrumental CD with a lean towards a world music feel. The songs are a bit light for my liking and after hearing great world music instrumentals by the likes of Dudley & Coleman, AfroCelt Sound System, Lights in a Fat City, etc. this release just failed to capture my interest.
♦ Martijn Busink ('MusiqueMachine', 14.01.2008; www.musiquemachine.com)
VALUE: ●●●●○

The homecountry of this quintet may be Poland, in their music they are true worldcitizens. Their fourth album is jazzrock/fusion spiced up with balkan, klezmer, African and middle-eastern influences.

The five members, Janusz Żukowski (reeds), Wojtek Stasiak (guitar), Tomasz Żur (bassguitar), Jarek Cieślak (drums) and Zuza Kuczbajska (violin), get some extra exotic help by Iranian nay-player Mohammad Rasooli as well as Genoveva Faisca (vocals) and Joăo Bengala (Portuguese guitar) from Portugal who recorded their parts in the titletrack in that country. Other than the recordings of the city of Lissabon everything else is recorded in Poland. Apart from the contributions from the Portuguese and Iranian musicians, which are immediately identifiable, the sound of Stilo is quite balanced and consistent. The great instrumentalists play together in such a way that the diverse sourcematerial melds into a consistent and powerful sound.

The first two tracks, "Mazura Boomerang" and "Oxalis", are carried by the drive of the drums, with seductive violin leads and themes that take you to the Balkans. In "Oxalis" also the Iranian ney takes over as well as taking the pace down to prepare us for the more romantically inclined "Światła Dunaju". In "Latimeria" percussion takes the lead. The following short intermezzo "Kwak Song" takes a more Asiatic turn, with some strange sounds and a more confusing atmosphere. The music is largely instrumental, but in "Most Karola" we get some vocals in Polish before a riff commences that reminds me of "Smoke On The Water". We get some time to relax in "52″ and then the beautiful crystalline sound of the Portuguese guitar brings us to "Lisboa Avenue", where we also get some more vocals, but this time in Portuguese. The last tune ("Azoia") is instrumental and has some light rock influences. The outro consists of Lissabon streetrecordings to make the circle full.

World music is a 'genre' susceptable to lots of cheesy interpretations or bitter critique, but technically it's the best term to describe this music. Traditions from all over the world are found but the total ends up 'homeless', but far from aimless. Bitterness or cheesiness remain far away because "Lisboa Avenue" features some fine musicianship and a seductive energy that radiates from the dynamic mix.
♦ Karsten Rube ('FolkWorld', nr 35, 2/2008; www.folkworld.de)
Allein der Name der CD irritiert. "Lisboa Avenue" hat mit Lissabon nur soviel zu tun, als dass die polnische Gruppe bei einem Besuch der Stadt am Tejo zu dieser CD inspiriert wurden. Zu finden sind nur sporadisch Elemente aus Lissabon. So das Geräusch der fahrenden Straßenbahn in den Ruas oder das Frontcover, dass ein in Lissabon lebender polnischer Maler gestaltet hat. Stilo scheint Lissabon an einem hektischen Tag erlebt zu haben oder in einer sehr lauten und clublastigen Nacht. So klingt das Album nach musikalischem Freestyle. Jazz und Rock haben die Oberhand und mehr als einmal erreichen die Freestylelemente die Grenze zur Schmerzhaftigkeit. Zum Ende des Albums mäßigen sich Stilo etwas und im Titelsong "Lisboa Avenue" erkenne ich dann sogar etwas vom Charme der portugiesischen Hauptstadt wieder.
♦ Filip Łobodziński – "Turkish-Karpathian Red Hot" (weekly 'Newsweek', January 2008;  www.newsweek.pl)
VALUE: ●●●●○○

Warsaw quintet is looking for its place not in the country of pure styles but somewhere in the middle. Musicians fascinated by trans and spirit of the East are trying to translate these elements into the language of rock and jazz. The band explains its eclectics, going to many sources of inspirations by quite banal reflections about "attempting to find out the long lost Golden Sounds" and "the way to the promised Home". But actually this is not important. Because in the joy of playing music underlies the power of Stilo, not the pompous philosophy. "Lisboa Avenue", the fourth album of the group, demonstrates it perfectly. The sound dominated by a violin, the intriguing rhythm measures and a big spirit of improvisations – these are the chief assets of the group. In this neo-folk meal you can even find variations on the "Breaking the Girl" of Red Hot Chilli Peppers. The only downside is a little weakness of compositions – it is not easy to find melodies and themes in the joy of improvisations. Generally the more you listen to this record the better it sounds, but it is hard to reply everything in the memory. But it is not a shame to play this CD to the foreigners. Especially that some of them (coming from Iran and Portugal) are the guest performers.

¨¨¨¨¨¨¨¨¨¨¨¨¨¨¨¨¨¨¨¨¨¨¨¨¨¨¨¨¨¨¨¨¨¨¨¨¨¨¨¨¨¨¨¨¨¨¨¨¨¨¨¨¨¨¨¨¨¨¨¨¨¨¨¨¨¨¨¨¨¨¨

¨¨¨¨¨¨¨¨¨¨¨¨¨¨¨¨¨¨¨¨¨¨¨¨¨¨¨¨¨¨¨¨¨¨¨¨¨¨¨¨¨¨¨¨¨¨¨¨¨¨¨¨¨¨¨¨¨¨¨¨¨¨¨¨¨¨¨¨¨¨¨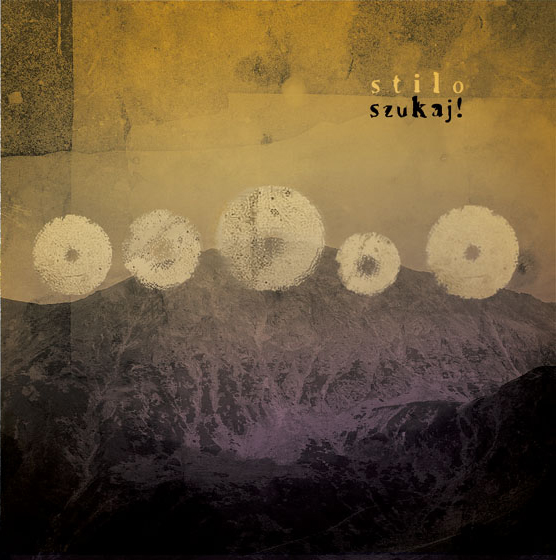 SZUKAJ!
Musicians: Damian Orłowski (viol), Sylwia Świątkowska (viol, plock fidel, pierdziel), Marek Dutka (sax, keyb, computer programming), Wojtek Stasiak (g, cümbüş), Tomasz Żur (b, sampler, voice), Janusz Kossakowski (dr, perc, sampler);
• guest: Leszek Kamiński (feedbacks)
Label: Konador
Released: 14.05.2005
Recorded and mixed: 27.11-20.12.2004; Polish Radio S4 Studio, Warsaw
Engineer: Leszek Kamiński, Polish Radio S4 Studio, Warsaw
Mix and mastering: Leszek Kamiński
Production: STILO & Leszek Kamiński
Final assembly: Ewa Guziołek-Tubelewicz
Production' chief: Danuta Andrzejczak
Art project: Ewa Przytuła
Fot.: Stanisław J. Woś, Robert Czajka, Ewa Hawryluk-Stasiak, Wojtek Stasiak
Translating assistance: Anita Marzec
Listen to the album:
1. Ani mi starczy słów (There Are No Proper Words)   0'49
2. Bexa   8'02
3. Jesień (Autumn)   5'30
4. Srebrenica   12'59
5. Melodia wiatru (The Melody of Wind)   7'50
6. Wąż (The Snake)   14'18
7. Bakłażan (Egg-Fruit)   8'54
8. Szukaj! (Seek!)   4'03
9. Oko Opatrzności (The Providence' Eye)   4'18
————————————————————–
TT                   66'57

REVIEWS:
♦ Marek Włodarski – "Ethno transgressions" (monthly 'Lampa'; 10/2005)
(…) On this record the most interesting piece for me is probably the most traditional one – mistic "The Providence' Eye" solo played by Sylwia Świątkowska (from Warsaw Village Band too) on plock fidel. Among the best compositions is 13-minutes trance-like "Srebrenica", performed by whole band. Stilo playing post-ethno – which means fusion of  jazz, rock, ethnic inspirations and chamber music - is able to enter the world PremierShip soon. So before they will be stolen by some abroad label (as Cracow Klezmer Band or Warsaw Village Band), please seek them in shops and at concerts, not paying much yet for it, in our Polish country.
♦ Tomasz Janas (daily 'Gazeta Wyborcza/Poznań', 24.06.2005)
Fascinating record to long-time-listening. The musicians are doing exactly what the title suggests: seeking. So we can listen to strictly constructed jazzy pieces, but also to: experiments, silence, climate changing and even subtle plays with electronica.
♦ Adam Ciesielski – "Style and imagination" (daily 'Życie Warszawy', 6.06.2005)
Ethno-jazz-rock revelation. Artists find inspirations in music not only from our part of Europe, but from Hungary, Balkan region, Asia and Middle East. They enchantingly join this elements with syncopated and rock fusion of 70′s. We really can present this music to the world.
¨¨¨¨¨¨¨¨¨¨¨¨¨¨¨¨¨¨¨¨¨¨¨¨¨¨¨¨¨¨¨¨¨¨¨¨¨¨¨¨¨¨¨¨¨¨¨¨¨¨¨¨¨¨¨¨¨¨¨¨¨¨¨¨¨¨¨¨¨¨¨

¨¨¨¨¨¨¨¨¨¨¨¨¨¨¨¨¨¨¨¨¨¨¨¨¨¨¨¨¨¨¨¨¨¨¨¨¨¨¨¨¨¨¨¨¨¨¨¨¨¨¨¨¨¨¨¨¨¨¨¨¨¨¨¨¨¨¨¨¨¨¨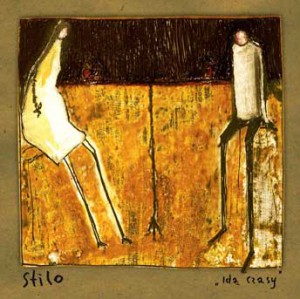 IDĄ CZASY
Prizes:
•II prize in journalists' poll Folk Phonograme of the Year 2003, organized by Polish Radio (April 2004)
•VI place in internet' poll Virtual Fiddle 2004
Musicians: Sylwia Świątkowska (viol), Wojtek Stasiak (g), Tomasz Żur (b, g), Serhan Kιzιlpιnar (perc, voc), Paweł Jedliński (dr, perc), Alpago Polat (sax, ney, perc);
• guests: Marek Dutka (sax), Leszek Stasiak (acc), Fryderyk Mizerski (tromb)
Label: Żur Płyty
Released: 28.03.2003
Recorded and mixed: 15.11-21.12.2002; Polish Radio S4 Studio, Warsaw
Engineer: Leszek Kamiński, Polish Radio S4 Studio, Warsaw
Mix and mastering: Leszek Kamiński
Production: STILO & Leszek Kamiński
Final assembly: Ewa Guziołek-Tubelewicz
Production' chief: Danuta Andrzejczak
Cover, graphics and art project: Aleksandra Gnap
Fot.: Ewa Hawryluk-Stasiak, Wojtek Ornoch
Listen to the album:
1. Tan Yetz   9'39
2. Latarnia zaczarowana   6'13
3. Wielka mroźna cisza    1'49
4. Mazura 33     3'36
5. Pieśń    7'19
6. Idą czasy   6'31
7. Nad sadzawką   2'02
8. Gwiazzzdy   9'57
9. Supernova   2'38
10. Powrót po śmierci ukochanej    7'06
11. Kolesnikoff   2'50
———————————–
TT              60'07
REVIEWS:
♦ OPINIONS OF JURY FROM FOLK PHONOGRAME OF THE YEAR 2003 (spring 2004):
Aneta Prymaka:
"…very mood and original record."

Dorota Szwarcman:
"Done with style in every inch: awesome, very creative music elaboration and attractive graphic forms."

Jacek Hawryluk:
"Interesting – although not new – idea of playing modern, global music. Desire of complete stylistic freedom sometimes is quite disappointing and dangerous. Stilo in its ethn0-improvisations is passionate (especially in those trance-like), but sometimes lost, too looped and fizzled out, too depending on 70′s rock. I expect real shock in the future. And I ask for more Warsaw Autumn – and less Chopin."

Justyna Ziółkowska:
"Excellently transformed ethnic music. "Modern" ethno even for those who don't like typical folk.

Maria Baliszewska:
"Great music, sounds and performance – especially original 'Mazura 33′. Beautifully released CD."

Max Cegielski:
"I've voted on this record for skilful writing down ethnic elements to jazz music, for going outside Polish tradition in even Turkish direction, for great violin playing of Sylwia Świątkowska."

Paweł Sztompke:
"Interesting, a little bit too complicated, but original."

Wojciech Ossowski:
"Everyone who draws something from the tradition adds something from him- or herself in exchange. So I have chosen Stilo as the band that is nearest the folk' idiom (way of thinking) as opposite to just 'hot-rodding' the tradition. "
♦ Łukasz Kamiński (weekly 'Co Jest Grane – Gazeta Wyborcza', 19.12.2003)
Kolejny przykład na to, że polska muzyka folkowa czy etno to potęga, oraz na to, że młodzi odkrywają coraz to nowe muzyczne rejony. Tak jakby odkrywali nowe lądy. Na 'Idą czasy' jest więc etno, rock, jazz, klasyka w wykonaniu polsko- -tureckiego składu grającego na klasycznych instrumentach (od skrzypiec po instrumenty perkusyjne, w tym darabukę). Kompozycje zagrane są na sposób jazzowy, jest w nich wiele ze swingującej lekkości. Mają też w sobie ponadczasowość, tak charakterystyczną dla muzyki korzeni. Na tle niesamowitej transowej sekcji rytmicznej soliści, w tym doskonała skrzypaczka Sylwia Świątkowska, idealnie się dopasowują, odgrywając własne partie. Nie ma tu ani jednego dźwięku za dużo czy za mało. Wszystkie elementy, choć pochodzące z różnych gatunków, idealnie do siebie pasują, tworząc harmonijną (słowo klucz dla 'Idą czasy') całość.

W spożywczakach jest zdrowa żywność. W sklepach muzycznych jest zdrowa muzyka, trzeba jej tylko trochę poszukać.
♦ Maciej Łopuszyński (monthly 'Vaganza', December 2003)
Ten polsko-turecki sekstet tworzy grupa wyrafinowanych muzycznie artystów, których klasę potwierdza muzyka na Idą czasy. Jest to zbiór jedenastu utworów, w których muzykę etno wspierają dźwięki jazzowe, rockowe, a niekiedy nawet transowe rytmy. Pobrzmiewająca gdzieniegdzie współczesna muzyka kameralna i nostalgiczne tematy skrzypcowe Sylwii Świątkowskiej powodują, że Idą czasy to godzinna porcja melancholii, pomijając utwór "Mazura 33″. Pod okiem realizatora Leszka Kamińskiego powstał materiał, który na pewno jest jednym z najcenniejszych polskich projektów muzycznych tego roku.
♦ Tomasz Janas (daily 'Gazeta Wyborcza/Poznań', 31.07.2003)
Respect for the sound, slow narration, skilful building of mood – these are main advantages of Stilo. Don't forget about interesting improvisations – by violinist Sylwia Świątkowska and guitarist Wojtek Stasiak above all - and good interplay (listening and common creating the message by all members of the band).

Stilo offers instrumental compositions, mostly its own, located somewhere between folk, jazz and rock. It is not easy to attract the audience playing such a music. Despite this fact the band has reached quite good position on the Polish ethno scene. Few months ago Stilo has presented his first officialy released album "Idą czasy". Album of big artistic value. There is few pieces referred to Polish and Turkish tradition on this CD, but that's the only starting point, not an aim. Tradition inspires musicians to search. I've heard some opinions that it is not a folk band, trying to discredit it. Sincerely speaking – I don't mind how to classify Stilo' style. What really matters they can interesting, wisely and subtly tell the stories.
♦ GLN (bi-monthly 'Gadki z chatki', nr 45/46, July 2003)
(…) The CD is well recorded and decently edited. Unfortunately, I am not able to listen to the whole material, as I usually fall asleep after five melodies.
♦ wow ('nuta.pl – dobra strona muzyki', spring 2003; www.nuta.pl)
VALUE: ●●● and 1/2 ○○
The record makes a good impression. The music of Warsaw' band Stilo is a colourful mixture of folk and jazz rock. There are moments when the spirit of King Crimson or Kansas from 70′s can be heard, at moments also Mahavishnu Orchestra and John McLaughlin solo productions can be traced. However, what dominates is the strong, colourful sound of Middle East folk melodies. The instrument leading the whole narration is definitely Sylwia Świątkowska's violin: temperate, using minimum of the possible means of expression, yet consequently developing the theme.  (…)
♦ Olaf Szewczyk (daily 'Gazeta Wyborcza', 7.05.2003)
Artists describes their playing as Music of the Open Space and this music  does consequently breaks the barriers between Turkish folk, jazz, ethno and modern chamber music. I particularly like the pieces most traditional in sound, especially those with the oriental touch. But I admit that the instrumental peregrinations over the borders also attract attention. The guitars, bas, violin, drums, saxophone and Turkish darabuka skilfully find common language. The music unfolds slowly, it has autumn colours and intensive, ripe taste with an interesting light note of bitterness. I suggest you taste it.
♦ AW (daily 'Super Express', 28.03.2003)
The band offers an hour of musical narration, hanging in between time, emotions and feelings. It tells a story kept in semi-European, semi-oriental atmosphere. It is a story about love – about the search for it, about the joy and the sadness it brings.
¨¨¨¨¨¨¨¨¨¨¨¨¨¨¨¨¨¨¨¨¨¨¨¨¨¨¨¨¨¨¨¨¨¨¨¨¨¨¨¨¨¨¨¨¨¨¨¨¨¨¨¨¨¨¨¨¨¨¨¨¨¨¨¨¨¨¨¨¨¨¨
¨¨¨¨¨¨¨¨¨¨¨¨¨¨¨¨¨¨¨¨¨¨¨¨¨¨¨¨¨¨¨¨¨¨¨¨¨¨¨¨¨¨¨¨¨¨¨¨¨¨¨¨¨¨¨¨¨¨¨¨¨¨¨¨¨¨¨¨¨¨¨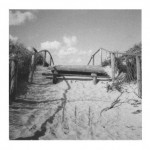 OPOWIEŚCI KAMIENI (CD ROM)
Musicians: Sylwia Świątkowska (viol), Wojtek Stasiak (g, b, perc), Grzegorz Urbaniak (perc)
Label: Havry Records
Released: 21.03.2001
Recorded and mixed: 1998-1999; Studio OKO, Warsaw
Engineers: Andrzej Słomkowski, Artur Bakuła, Wojciech Jakubas; Studio OKO, Warsaw
Production: Wojtek Stasiak
Art project: Wojtek Stasiak, Grzegorz Urbaniak
Fot.: Ewa Hawryluk-Stasiak
Listen to the record:
Opowieści kamieni – album mix (4'43)
1. Taniec: Diabeł i Król   5'56
2. Latarnia   4'28
3. Ciche gwizdy gwiazd  3'18
4. Pifko z Efko   3'51
5. Stilosen     4'14
6. Północ        1'19
7. Studnia (w którą wpadł Wilhelm Gustloff)    11'49
8. Modlitwa na wschód słońca     3'41
———————————————
TT                    38'52
REVIEW:
♦ Ziutek Vlepkarz (discussion board 'Muzykant', 13.07.2001)
W moje ręce dostała się demówka grupy Stilo, wydana nakładem totalnie podziemnej firmy Havry Records. Na okładce kasety znajduje się fotka równo ułożonej kostki brukowej z cieniem gałęzi drzewa oraz logo zespołu. A w środku:

1. "Taniec – Diabeł i Król". Nieco psychodeliczny, pulsujący wstęp gitarowy przekształca się w podkład do jazzująco-transowo-klezmerskich skrzypiec, które tworzą klimat niepokojąco i przejmująco poważny; muzyka wciąga słuchacza… Motyw Diabła jest oddzielony od Króla prawie niedostrzegalną pauzą, przejmujący śpiew skrzypiec też zmienia się bardzo nieznacznie.

2. "Latarnia". Basowy wstęp, wchodzi bossanovująca gitara i zaczyna się dyskretny dialog. Niepostrzeżenie dołącza perkusja. Bardzo udane połączenie wolnego jazzu i płynącego folka. Gdy się zamknie oczy podczas słuchania tego numeru, widzi się latarnię morską we mgle i siąpiącym deszczu…

3. "Ciche gwizdy gwiazd". Gitarowy kawałek grany rockowymi riffami ale w sposób bardzo delikatny. Już po deszczu, który nękał latarnię. Migoczące gwiazdy i poranek, który je gasi. Schizujący koniec. Malowanie dźwiękami!

4. "Pifko z Efko". Bluesowy kawałek, ale wciąż słychać, że to Stilo. Bardzo pozytywny w brzmieniu. Plumkający efekt wah-wah też bardzo dobrze wkomponowany – wyrywa słuchacza z transu, w który wpada się po poprzednich kawałkach. Bardzo dobry utwór!

5. "Stilosen". Gitarowa kołysanka. Zupełnie jak brzmienia gitar w poezji śpiewanej. Swoją drogą ciekawy pomysł – instrumental stylizowany na poezję śpiewaną. Z czasem dochodzą rzewne, zaciągające klimatycznie skrzypeczki.

6 i 7. "Północ" i "Studnia (w którą wpadł Wilhelm Gustloff)". Uderzenie talerza. I jeszcze kilka – po prostu zegar wybija północ. Ten pewnego rodzaju króciutki performance muzyczny przechodzi w nieco dynamiczniejsze rytmy, rock akustyczny z domieszkami brzmień bliskowschodnich. Pod koniec całość zwalnia, plumka pauzami coraz ciszej… Bardzo delikatna gitara, jakby jeszcze do końca nie rozbudzona… Improwizuje jazzowo, coraz mocniej, wchodzą klezmerskie skrzypce… I na koniec ponownie ciche plumkanie. Utwór brzmi jak przegrana w sumie walka człowieka z żywiołem. Niekoniecznie wodą. Super!

8. "Modlitwa o wschodzie słońca". Powtarzający się motyw muzycznej litanii. Bardzo nastrojowy utwór z dyskretnym, ale dobrze słyszalnym brzmieniem basu. Schizowa elektronika kończy płytkę. Jeden z lepszych numerów na tym demo!

Zespół nagrał materiał w składzie: Wojtek Stasiak, Sylwia Świątkowska i Grzegorz Urbaniak. Obecnie skład Stilo jest dużo szerszy, tak więc demo nie oddaje brzmienia kapeli, ale mimo to jest ciekawe. Styl, jaki zespół zdążył sobie wypracować, zwany autorsko muzyką otwartej przestrzeni, jest już słyszalny. Na płytce chwalebnie nie ma hiciorów, a słuchać jej trza po całości, wtedy bez problemu łapie się klimat. Minusem "Opowieści kamieni" jest nienajlepsza jakość dźwięku. Byłoby bardzo wskazane, żeby zespół nagrał profesjonalną płytę studyjną. I jeszcze jedno – ze wzrostem liczby przesłuchań płyty, rośnie dla niej uznanie. Zupełnie, jak w przypadku demo grupy Ovo…
¨¨¨¨¨¨¨¨¨¨¨¨¨¨¨¨¨¨¨¨¨¨¨¨¨¨¨¨¨¨¨¨¨¨¨¨¨¨¨¨¨¨¨¨¨¨¨¨¨¨¨¨¨¨¨¨¨¨¨¨¨¨¨¨¨¨¨¨¨¨¨¨¨¨¨¨¨¨

¨¨¨¨¨¨¨¨¨¨¨¨¨¨VARIOUS ARTISTS¨¨¨¨¨¨¨¨¨¨¨¨¨¨¨¨¨¨¨¨¨¨¨

¨¨¨¨¨¨¨¨¨¨¨¨¨¨¨¨¨¨¨¨¨¨¨¨¨¨¨¨¨¨¨¨¨¨¨¨¨¨¨¨¨¨¨¨¨¨¨¨¨¨¨¨¨¨¨¨¨¨¨¨¨¨¨¨¨¨¨¨¨¨¨¨¨
NOWA TRADYCJA – ANTOLOGIA POLSKIEGO FOLKU
Prizes: nomination to Fryderyk 2008, in category "Ethno-Folk Album" (spring 2008)
STILO' line-up: Sylwia Świątkowska (viol), Alpago Polat (sax), Wojtek Stasiak (g), Tomasz Żur (b), Paweł Jedliński (dr), Serhan Kιzιlpιnar (perc)
Recorded: live at New Tradition festival, Polish Radio Concert Hall, Warsaw, 13th or 14th of April 2002
Label: Polskie Radio
Released: 2007
CD1:

1. The Cracow Klezmer Band – Diabelski krąg (Devil Circle)
2. Stara Lipa – Zimowe intro (Winter intro)
3. Zbigniew Nasiadko and Oni – Pieśń weselna (Wedding Song)
4. Dikanda – Żurawi (Cranes)
5. Poloki – Chłopczyska (Bhoys)
6. Chojzes Klezmorim – Szybki (Quick)
7. Kapela Stefana Kozby – Wiwat wielkopolski (Wielkopolski Vivat)
8. Chudoba – Rośnie bylicka (Growing Motherwort)
9. STILO – IDĄ CZASY (TIMES ARE COMING)
10. Jak wolność to wolność – Podolanka (Podole Girl)
11. Extra Formacja Górali Beskidzkich – Baciarka (Baciarka Party)
12. Jarek Adamów – Piękna dusza (Beautiful Soul)
13. Muzykanci – Kare konie (Black Horses)
14. Klezmafour – The Wrist Breaker
15. Kapela Ze Wsi Warszawa/Warsaw Village Band – Coś ty Kasieńko robiła (What Did You Do, Kasienka)
16. Odpust Zupełny – Disticha Katonis
17. Lautari Folk Band – Polne
18. Ania z Zielonego Wzgórza – Dolina, dolina (Oh, Valley, Valley)
19. Się Gra – Tarantella – klezmer z wałka (Tarantela – Klezmer of a Roller)
20. Dla Róży – Bodaj to nikt dobry (If Only Nobody Goud)
21. Mitlos – Bescias Jeske pre bareske
CD2:

1. Tołhaje – Stuposiany
2. Ket Jo Barat – Przyjechał Kasieńko (Jasienko Has Come)
3. Swoją drogą – Bijo mnie mamusia (My Mom Beats Me)
4. Wędrowiec – Na Świętego Jana (On the St. John's Day)
5. Jascha Lieberman Trio – Sztejtełe
6. Rybka i przyjaciele – Gnała wołki dolinkom (Chasing Oxen by the Valley)
7. Nell'Ambientes – Siała baba mak (Poppy Sowing Woman)
8. Grzegorz Tomaszewski – Inwencja ludowa (Folk Invention)
9. Nina Stiller – Di kapelje
10. Ich Trole – Ober Turolowy
11. Joanna Słowińska z zespołem/with band – Oberek
12. Kołowrót – Faworyt (Favourite)
13. Żywiołak – Ballada o głupim Wiesławie (Ballad of Vieslav the Fool)
14. Julia Doszna i Wereteno – Tam na Łemkowyni (Over There on Lemkovynia)
15. Kwadrofonik – kujawiak "Jaworowe kółka" (Sycamore Wheels)
16. Klezzmates – Dance In the Moonlight
17. Caci Vorba – Jo Se koniusia poił (Watering My Lovely Little Horse)
18. Psio Crew – Doliny (Valleys)