SENTIMENTAL JOURNEYS TO OKO
(8.11.2013)
Do you know that if you arrive to our Saturday' gig in Ośrodek Kultury Ochoty OKO in Warsaw (Grójecka 75 street) with a child/children no older than 12, you won't have to pay for their ticket? It'll be free entrance for he/she/them. Last time, at CPK, there was probably the youngest STILO' fan in the audience. Look at the pic – here is the baby with her proud daddy in the concert room.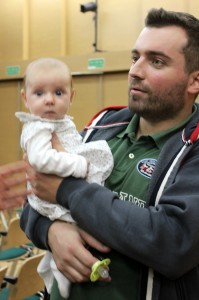 Photo: Joanna Bednarczyk
.
OKO is very important place for us. Here we had our first rehearsals (continued till about 2002) and the first concert – 18.05.2000! Even the first CD "Opowieści kamieni" was recorded here, too…  In 2010 we got back to OKO on the occasion of 10th anniversary of first STILO' concert, to play special gig with our former Turkish member Alpago and Serhan. It was extraordinary evening! We've wriiten about it this way: read the note.
And to be more sentimental… We've found something very special from the archives. The real pearl. Video from our very first gig, yeah – this old gig in OKO!  We are beautiful and young here – well… nothing's changed, actually.
🙂
So see Ya on Saturday! This will be the last chance to see us in Warsaw this year…
PS And please remember that on Bemowo.FM hit parade our "Deszcz"/"The Rain" still waits for your votes (via: lista@bemowo.fm).
.